The End of Roe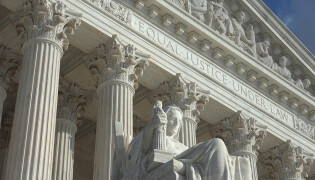 On Thursday, June 24, 2022, the Supreme Court of the United States ruled on the case, Dobbs v. Jackson Women's Health Organization. This case from Mississippi constituted a challenge to a 15-week abortion ban signed into law in Mississippi in 2018. From its inception legal experts were certain this case would be a challenge to the longstanding decisions in Roe (1973) and Casey (1992) which both supported the view of the court in those years that there was an unenumerated right to abortion in the Constitution of the United States, protected by various amendments to the Constitution. Since Roe was decided, abortion on demand had been legal in all fifty states for nearly fifty years—and this so, not by legislation, but by judicial fiat. During those decades in the United States more than 63 million children's lives were ended before they ever left their mother's womb. For nearly fifty years, Christians have come shoulder to shoulder with people of many faiths and of no faith who recognize pre-born persons as human beings worthy of the right to life to advocate for a day when abortion would not only be illegal, but morally unthinkable.
The Supreme Court's decision in Dobbs is nothing short of an answer to the prayers of many for these last fifty years. The sum of the majority decision of the court reads, "The Constitution does not confer a right to abortion; Roe v. Wade and Planned Parenthood of Southeastern Pennsylvania v. Casey are overruled; the authority to regulate abortion is returned to the people and their elected representatives." [1] In short, Roe and Casey are both overturned, and the issue of the legality or illegality of abortion has been turned to state legislatures and congress to determine whether they will pursue legislation to limit or permit abortion.
For Christians, June 24, 2022 will stand as an historic day. It is a day that recognizes the life of a child as a distinct person in his or her mother's womb. It is a day that notes the very serious moral implications of abortion, not only for the pre-born, but for our entire society. It will stand as a day that marks the beginning of a whole new season of ministry for Christians in a post-Roe America. To be sure, this ruling is not the end of the abortion debate, but as some have said, it is only "the end of the beginning." In light of this historic day, I would proffer these recommendations for Christians seeking to know how best to respond and care in the name of Christ for those considering and affected by abortion.
Be informed. Know what the Dobbs ruling is and is not.
We serve the God of all truth and faithful ministry in his name must not be carried out with any sort of deceit or willful ignorance. Let us understand, this ruling does not make abortion illegal in every state. Rather, it reverses previous rulings that inserted an otherwise unstated right to abortion into the constitution. Roe and Casey may have legalized abortion, but Dobbs does not illegalize abortion.
Instead, the ruling sends the matter of abortion to states and to the federal congress for further deliberation. Other states have already taken action to illegalize or at least set limits on the practice of abortion. New Mexico, unfortunately, is not one of them. Quite the opposite, New Mexico legislators have doubled down on making our state a haven for abortion with virtually no limits on the timing, method, or circumstances under which women may seek to end their pregnancy. Dobbs, mournfully, changes virtually nothing in terms of abortion access in New Mexico.
Rejoice, but do not gloat.
June 24, 2022 is a day that the Lord has made and in which we should rejoice and be very glad, indeed! Christians who understand that every person bears the image of God as an inherent aspect of our creation by God should rejoice in the reality that many pre-born children will be safe from the vicious ending of their lives today. Praise God for his faithful answer to prayer!
Let us also remember that humility and gentleness are key aspects of the character of our Savior, Jesus, and of the lives he has called us to. This legal victory should not be the cause of our gloating, boasting, or arrogant posturing before those who find themselves opposing us. Rather, let it be opportunity for us to demonstrate charity, patience, and Christ-like service to all. Already, some pro-abortion activists have demonstrated their disgust at this decision in violent and disgraceful ways. Let the church of Jesus Christ not give cause to validate such response by carrying about in pride.
Consider active support for pro-life ministries.
Living in New Mexico, we will continue to see women in crisis seeking abortion within our state and coming to New Mexico from other states to obtain an abortion. Now, more than ever, crisis pregnancy centers need prayer, financial support, and volunteer support to minister to women in need. A great number of women pursue abortion simple because they feel as if they have no other option for dealing with an unplanned pregnancy. First West has worked in the past with Casa de Mariposa in the Albuquerque Metro Area and maintains an ongoing relationship with the founders of this ministry. Casa de Mariposa is a Christian ministry that provides housing, healthcare, and job skills for pregnant women in crisis. Consider taking their volunteer training course and serving the women that are in their care, or making a sustained financial contribution to their work. Likewise, Care Net is an Evangelical Christian crisis pregnancy resource center in Albuquerque that provides free pregnancy testing, ultrasounds, post-abortion care, counseling, adoption resources, and a whole suite of other pregnancy related assistance. Pray about how God would use you to support this work with your time, finances, and prayer.
Finally, I entreat you to prayerfully consider what would prevent you from becoming a foster or adoptive parent. Many women who are considering abortions may be likely to carry their child to term if they know there is a family willing to receive that child as their own, love him or her, and provide a caring, nurturing home. We who have been adopted by God in Christ know firsthand the blessed realities of adoption. Giving money, volunteering time, and praying for crisis pregnancy centers and ministries is good and right—but let us not discard as an option for pro-life action the opening of our lives and homes to receive children who otherwise may be lost to abortion.
Keep the Gospel at the forefront of your ministry and conversations about abortion.
Abortion is sin—let us not be deceived. Abortion constitutes the willful ending of human life, an action that God has said we must not do without grave consequence. The good news is the Son of God, Jesus Christ, died for sinners that they might be reconciled to God and forgiven of sin. The Gospel message—that there is grace, forgiveness, and restoration to God in Christ—is the best news that any abortion provider or woman who has had an abortion can hear. The Gospel says our sin is very serious and gravely offensive to God's holiness. It also says that in Christ we are more loved and received by God than we could ever have imagined or worked for on our own. In the person and work of Jesus there is hope for spiritual healing and wholeness for all who call on him.
So, inasmuch as we seek the end of the practice and demand for abortion in our state, we also seek the salvation of those who have been complicit in and adversely affected by abortion. Statistics bear out that one in four women have had an abortion since 1973. Likely, you know someone personally who has had an abortion or been directly impacted by one. Remember that these are precious souls, made in the image of God, worthy of our respect, care, and love. Many of these will have scars we cannot see with our eyes from abortion, scars that only Jesus can heal. Let us be, then, ministers of reconciliation as we care in the name of Jesus and with the hope of the Gospel for such as these. May we be marked by the compassion that Jesus displayed for sinners, and our speech be seasoned with the good news of Jesus Christ to everyone we encounter on this matter moving forward.
The Dobbs decision is not the end of the abortion debate—not by a long shot—but in God's grace it will be the start of an era that ends with abortion not only being illegal, but morally unthinkable. There is much work to do in winning hearts and minds to the biblical truth that every human life bears God's image and is worthy of being born. Let us set ourselves to this task with prayer, humility, integrity, truth, and sacrificial love. God be praised for the lives saved by this ruling! May He be gracious to every child growing within the sacred space of its mother's womb, that they may see life and an abundance of days in the knowledge of Jesus as Lord. May the Lord bring true healing and abundant life through Christ to each person affected deeply by the sinful effects of abortion. And may God be glorified in us as we make disciples of Jesus Christ in the power of the Holy Spirit.
[1] https://www.scotusblog.com/case-files/cases/dobbs-v-jackson-womens-health-organization/, accessed June, 25, 2022.